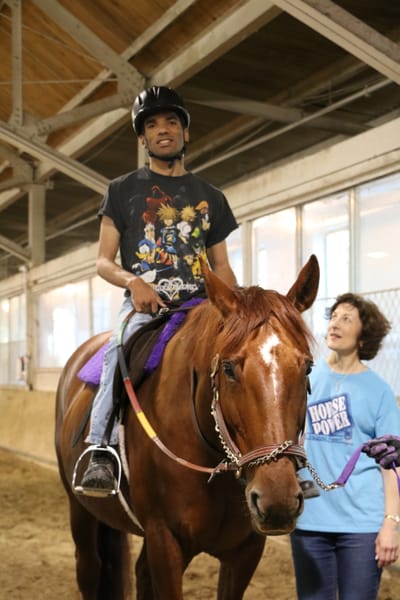 The Oakland County 4H Proud Equestrian Program (PEP) is a therapeutic riding program for people who are mentally and/or physically challenged. It improves physical, social and emotional needs in a recreational setting.
Families and volunteers share the rider's joy as they accomplish goals and experience success. This shared experience creates a bond among families, their rider, horse and volunteers. This bond we hope lessens the sense of isolation that families often experience.
• Safety is always our number one concern
• Improved motor coordination and balance: Riding a horse requires both coordination and balance. Because of this, therapeutic horseback riding improves these areas in students who may otherwise have difficulties due to their disabilities.
• Core Strengthening: The movement of the horse at walk replicates the normal human gait of walking.
BOH-PEP and our instructors are certified through the Professional Association of Therapeutic Horsemanship International.
BOH-PEP is an Oakland County 4H Youth Development, Michigan State University Extension program. Our primary sponsors are Variety, The Children's Charity (Tent 5) and the Bloomfield Open Hunt Club.
We are grateful to them and for all the many volunteers that make this valuable, impactful program possible.